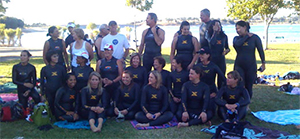 The TBF Open Water Swim Class is great for anyone wishing to learn how to swim strong and with confidence in the open water. This class will teach you proper swim technique and how to improve your swim speed, stamina, and efficiency. Each Class meeting offers beginner, intermediate, and advanced lesson plans/swim workout options.
The Open Water Swim Class meets every Monday and Wednesday (beginning on April 24th) from 6:30 pm - 8:00 pm at Beals Point, Folsom Lake (CA State Park). However, this Class will move to Nimbus Flat at Lake Natoma when the water level in Lake Folsom gets too low.
The Class is for all levels of swimmers from very beginner to advanced. The class will offer stroke development and breathing drills for the beginner swimmers. It will offer a swim course and specific focus for the intermediate swimmers. And, this Class will offer endurance/long swim options for the advanced swimmers including a monthly 0.5-mile or 1-mile swim time-trials.