Calling all Ladies!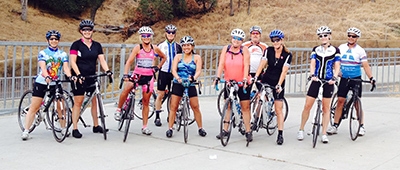 We want to help you develop your road bike skills, confidence, enjoyment and camaraderie. Join our 11-week Women's Cycling Class and get ready for the Sacramento Century Challenge on October 7th, 2017.
This class meets every Sunday morning at 8:00am except for the first two weeks (7/22 and 7/29). Those classes will meet on Saturday at 8:00am. The first workout is at 7:30 am on Saturday, July 22nd at Folsom Bike,

This class is for all levels of women cyclists and will conclude with the beautiful Sacramento Century Challenge on October 7th. This beautiful, flat and fun ride starts and finishes on Capitol Mall and meanders through the Sacramento Delta Wine Region. There are ride distance options ranging from 16 to 100 miles. The course offers rest stops with nutritious food and drink and full rider support. After you fisish, celebrate and have fun at the post-ride Beergarden Festival on Capitol Mall!